1939: Dorothy Draper is commissioned to decorate the celebrity bastion Arrowhead Springs Hotel in San Bernardino, Calif, a resort on the hill heading toward Lake Arrowhead. The architect on the project is Paul Williams, an architect with whom Dorothy had a close working relationship.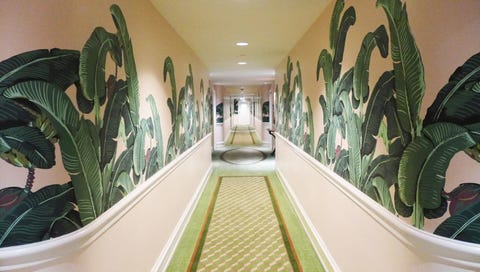 1941: Architect Paul Williams is engaged by the owners of The Beverly Hills Hotel to bring the style of Arrowhead Springs, to the bustling Hollywood crowd. With Williams on the scene, Dorothy Draper prepares some sketches inspired by her Arrowhead Springs project, a banana-leaf wallpaper designed for the hallways of the hotel as well as for the staircase descending to the lower coffee shops.
Now it gets interesting. The hotel's owners, who were friends of Don Loper, wished to have an in-town designer on hand. So Mr. Loper became the lead designer, leaving Draper and her team on the East Coast to take on other projects in hotel design the Palácio Quitandinha in Rio de Janeiro, Brazil and The Drake in Chicago.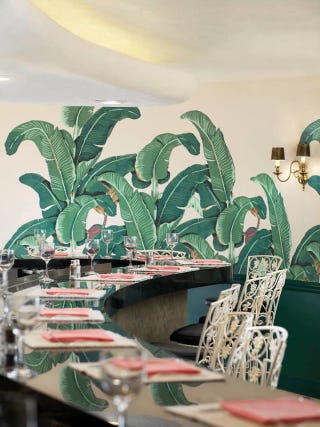 1942 : Don Loper is hired as the local interior designer to oversee the design and build of the Beverly Hills Hotel. He selects a local printer to complete the inspiration from Dorothy to create murals for the Beverly Hills Hotel.  (The hotel's Polo Lounge Wallpaper is often confused with Dorothy Draper Brazilliance decoration.) Both were created around this time. 
1944: Draper installs Brazilliance in Rio's Palácio Quitandinha hotel.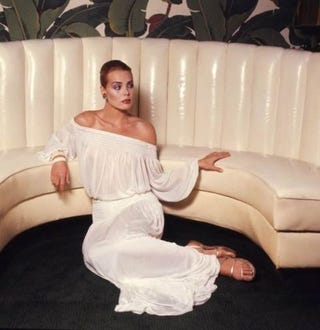 1975: The Beverly Hills wallpaper becomes synonymous with Hollywood thanks to celebrities and socialites like Margaux Hemingway who are photographed in front of it. MARGAUX HEMINGWAY AT THE BEVERLY HILLS HOTEL IN 1975.
1985: French-Vietnamese restaurant Indochine opens in NYC's NoHo neighborhood with the Beverly Hills banana leaf-wallpapered walls and becomes a fashion-industry favorite. 
1985: Blanche Devereaux's bedroom on the Golden Girls features a banana leaf-print wallpaper and a matching bedspread. 
2004: In the film The Aviator, Howard Hughes (played by Leonardo DiCaprio) stands in front of a bathroom wallpapered in the famous print.
2009: Dorothy Draper's protégé redecorates the Greenbrier Hotel in West Virginia with Brazilliance.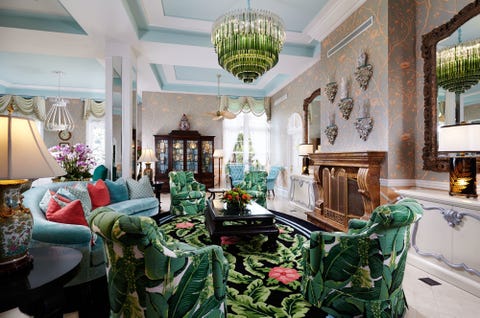 2014: Varney redecorates The Colony, a historic hotel in Palm Beach, with Brazilliance.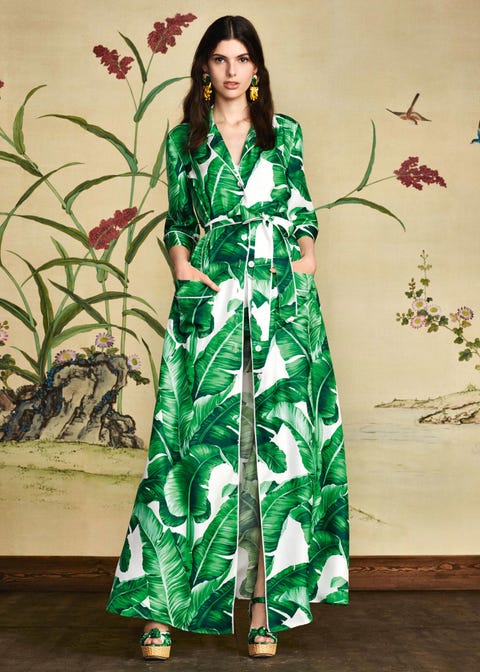 2016: Dolce & Gabbana's Prefall collection features banana leaf wallpaper-inspired clothing and accessories. 
2016: Beverly Hills Wallpaper Palm print wallpaper becomes an
ubiquitous Instagram backdrop for our Modern Swans.
 Beverly Hills Wallpaper V. Greenbriar Brazilliance
The Brazilliance, includes sea grapes amid the leaves.
The Beverly Hills Wallpaper is more muted with no grapes but with the addition of bananas, banana pods in burgundy, and mustard yellow bananas.
Even with their differences in color and pattern, The Beverly Hills Wallpaper and the Dorothy Draper Brazilliance expresses Hollywood glamour in the 1940s, inspiring interior designers to this today.